40th Seminar Sophus Lie

Travel information

Castle Rauischholzhausen is located approx. 15 km away from Marburg and 40 km away from Gießen. When coming from far away, best is to take a flight to Frankfurt/Main and from there a train to Marburg (approx. 90 minutes). Train connections to Marburg inside Germany are via Frankfurt or Kassel - see the railroad timetables of Deutsche Bahn for details.
On Thursday afternoon, approx. around 5 p.m., a bus organized by us (look for "Busunternehmen Nau") will leave from Marburg Hauptbahnhof and bring you directly to the Castle. On Saturday late afternoon after the end of talks, there will again be a bus from the Castle to the station.
Detailed meeting point for the bus departing Marburg Hauptbahnhof
Detailed travel instructions Frankfurt Airport -> Marburg Hauptbahnhof
By public transport: Due to its location in the country side, the Castle is rather difficult to reach by public transport solely. We recommend to take a train to "Marburg Hauptbahnhof" and share a taxi to Castle Rauischholzhausen in case you cannot take the bus (not very expensive). If you're feeling adventurous, here is how to come by public transport:
Get to Marburg Südbahnhof: about half of the trains coming from Frankfurt stop there anyway, otherwise take one of the busses from Marburg Main Station.
Take bus 80 to "Stadtallendorf-Schweinsberg Weidenhausen" and get of at "Ebsdorfergrund-Rauischholzhausen Zimmerplatz" (this is right at the entrance of the Castle). Travel time: approx. 20 minutes.
Before doing all that, check the critical part: the bus timetables [ bus timetable]. Roughly, the departures times are on Thursday: 13:09 / 14:19 / 16:09 / 17:09 / 18:09. In the evening (20:29 / 21:09 / 22:09 / 23:09 / 00:09), there are no buses, but a public taxi (very convenient, same price as the bus), you have to call the number given in the timetable one hour in advance to take it.
For finding any other connection that you may need: public transport query page.

By car: If you are coming from the south, drive to Gießener Nordkreuz on the ring highway around Gießen. Leave the highway and take B3 direction Marburg until Fronhausen/Ebsdorfer Grund. Pass the villages Hachborn, Ebsdorf, Heskem, Wittelsberg until Rauischholzhausen. From the north: drive directly to Marburg. Take the road "Großseelheimer Straße" over the Lahnberge (the same as to Campus) and leave at the exit "Kirchhain / Klinik Sonnenblick", then follow the signs to the villages Schröck und Roßdorf. Drive through both, the road will then lead you directly to Rauischholzhausen. In Rauischholzhausen, the signs "Schloss" will lead to to destination.

Here is a general map and a local map: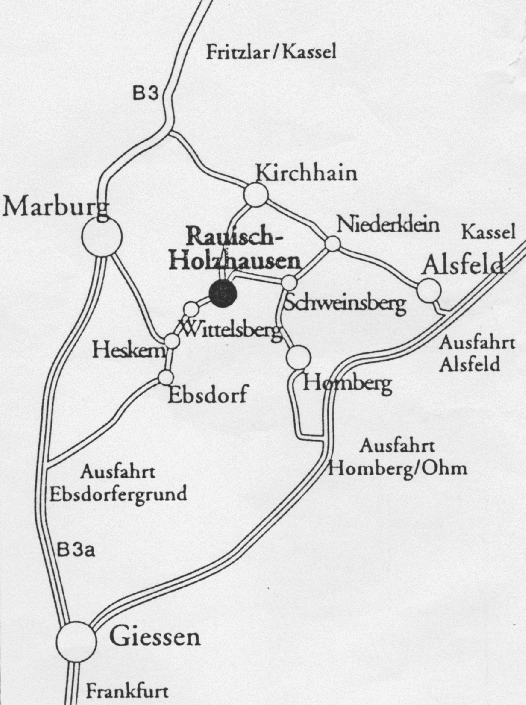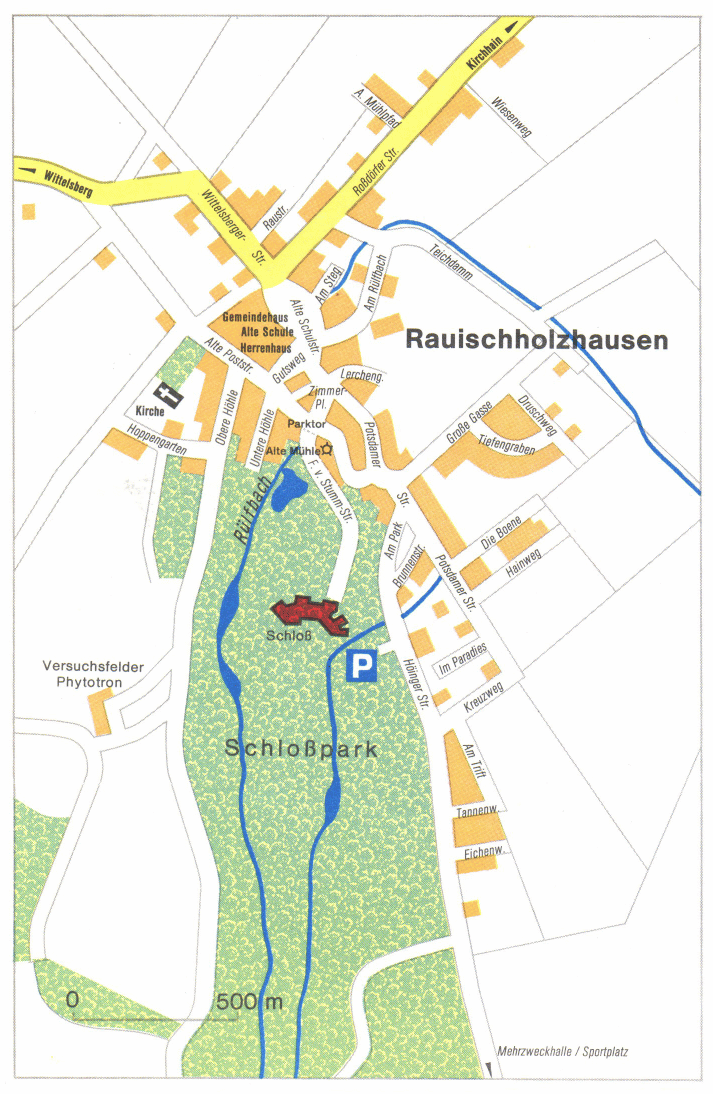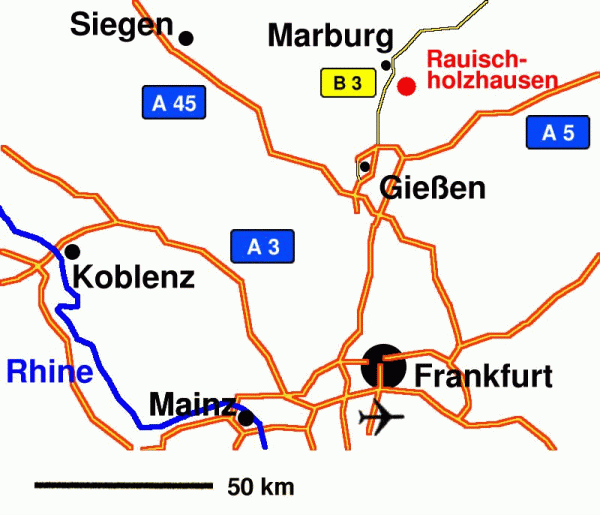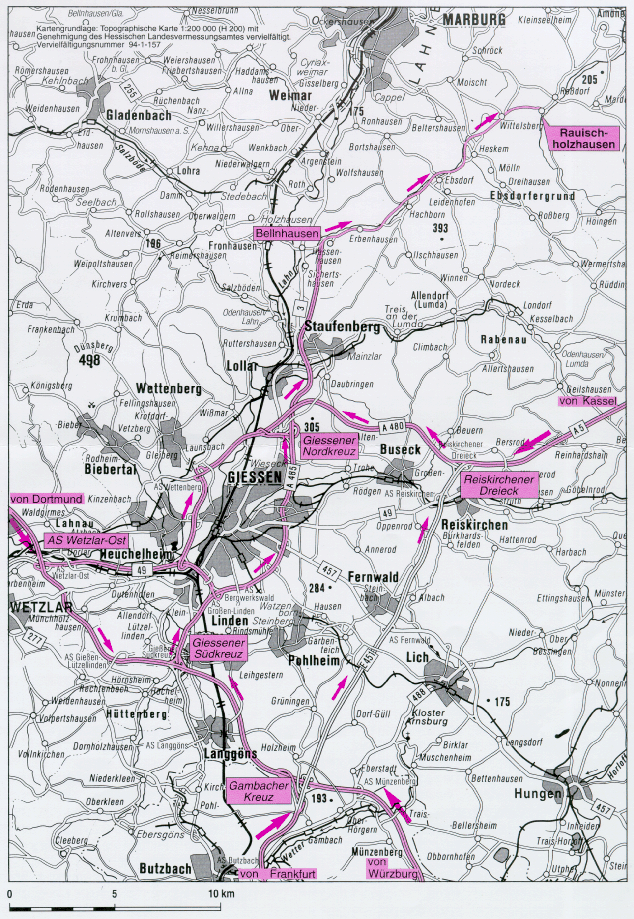 ---
Ilka Agricola / 01.01.2011