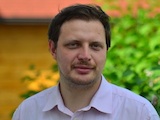 (larger)
Write me an email:
Physical address:
Dr. Oleg Lobachev
Universität Bayreuth
Angewandte Informatik V
Gebäude AI
Universitätsstrasse 30
95447 Bayreuth
Ch. Ulrich, O. Lobachev, B. Steiniger, and M. Guthe. "Imaging the vascular network of the human spleen from immunostained serial sections". Eurographics Workshop on Visual Computing for Biology and Medicine (EG VCBM), 2014.
M. Endler, O. Lobachev, and M. Guthe. "Human-computer interaction using robust gesture recognition". WSCG Posters proceedings. 2014. Poster.
Ch. Ulrich, N. Grund, E. Derzapf, O. Lobachev, and M. Guthe. "Parallel iso-surface extraction and simplification", WSCG Communications proceedings, 2014.
O. Lobachev, M. Schmidt, and M. Guthe. "Optimizing multiple camera positions for the deflectometric measurement of multiple varying targets", Journal of WSCG, volume 21, issue 2, pages 145-152, ISSN 1213-6972, 2013.
O. Lobachev, M. Guthe, and R. Loogen. "Estimating parallel performance." Journal of Parallel and Distributed Computing, volume 73, issue 6, June 2013, pages 876-887, Elsevier, 2013. DOI.
O. Lobachev. "Parallel computation skeletons with premature termination property." FLOPS'12: Functional and Logic Programming. LNCS 7294, pp. 197-212, Springer-Verlag, 2012.
O. Lobachev and R. Loogen. "Estimating parallel performance, a skeleton-based approach." In Proceedings of 4th International Workshop on High-level Parallel Programming and Applications, pages 25-34. ACM Press, 2010. See also the 2013 journal paper.
O. Lobachev and R. Loogen. "Implementing data parallel rational multiple-residue arithmetic in Eden." In V. P. Gerdt, W. Koepf, E. W. Mayr, and E. H. Vorozhtsov, editors, CASC'2010: Computer Algebra in Scientific Computing, LNCS 6244, pages 178-193. Springer-Verlag, 2010. Extended and revised version.
J. Berthold, M. Dieterle, O. Lobachev, and R. Loogen. "Parallel FFT with Eden skeletons." In V. Malyshkin, editor, PaCT 2009: 10th International Conference on Parallel Computing Technologies, LNCS 5698, pages 73-83. Springer-Verlag, 2009. Extended version.
J. Berthold, M. Dieterle, O. Lobachev, and R. Loogen. "Distributed memory programming on many-cores – a case study using Eden divide-&-conquer skeletons." In K.-E. Grosspitsch, A. Henkersdorf, S. Uhrig, T. Ungerer, and J. Haehner, editors, Workshop on Many-Cores at ARCS '09 – 22nd International Conference on Architecture of Computing Systems 2009, pp. 47-55. VDE-Verlag, 2009.
O. Lobachev and R. Loogen. "Towards an implementation of a computer algebra system in a functional language." In S. Autexier, J. Campbell, J. Rubio, V. Sorge, M. Suzuki, and F. Wiedijk, editors, Intelligent Computer Mathematics, volume 5144 of LNAI, pages 141-154. AISC 2008: 9th International Conference on Artificial Intelligence and Symbolic Computation, Springer-Verlag, 2008.
Obligatory: The original publications are available at www.springerlink.com.
2007: Diplom-Mathematiker (MSc in mathematics) from Justus-Liebig-University in Giessen; supervised by Prof. Dr. Tomas Sauer
2007–2009: Embedded software developer in the industry
2009–2011: PhD student, supervised by Prof. Dr. Rita Loogen; group focus: programming languages and parallelism; my research: algorithmic skeletons, quality measures, computer algebra
10.2011: PhD from Philipps-University in Marburg; thesis in parallel functional programming for computer algebra algorithms
01.2012–04.2012: Lehrbeauftragter (Lecturer) at Philipps-University in Marburg
2011–04.2012: Postdoctoral researcher under Prof. Dr. Michael Guthe at Philipps-University in Marburg; group focus: 3D graphics; my research: optimisation of camera placement in 3D scenes
05.2012–09.2012: Postdoctoral pesearcher under Prof. Dr. Giuseppe Lipari at Scuola Superiore Sant'Anna in Pisa; this university is ranked best Italian university by Academic Ranking of World Universities, acquired first place in Italy by h-index ranking; group focus: scheduling and real-time systems; my research: scheduling, optimisation, and quality measures, e.g., physical similation of scheduling problems, this involves optimisation
10.2012–: Postdoctoral researcher (Akademischer Rat) under Prof. Dr. Michael Guthe at University of Bayreuth
Photography, typography. For the second: look at my thesis PDF, it's done with LaTeX. For the first: email me.
Written in Emacs. Generated with pandoc from Markdown. CSS from Twitter Bootstrap. Powered by 220 Volt.